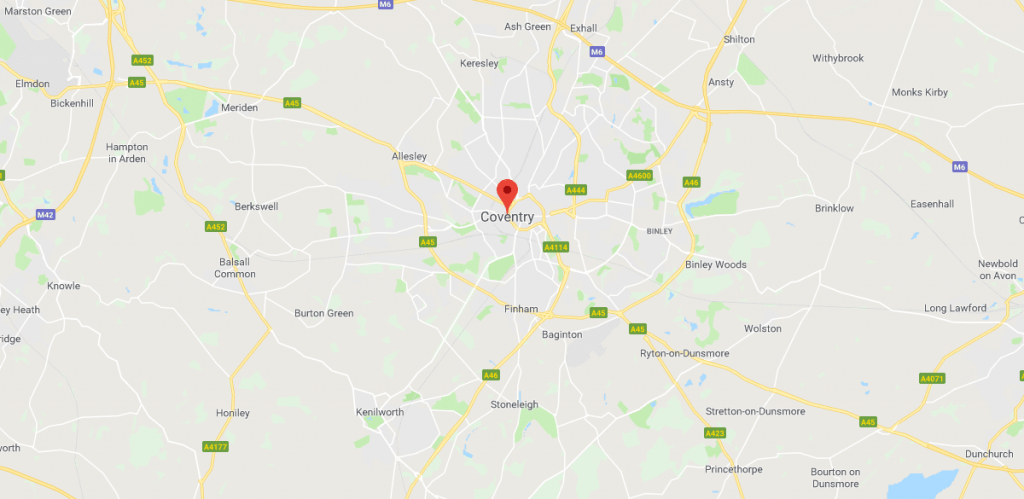 Being a city of study and culture, Coventry attracts a lot of coffee lovers.
The popularity of coffee among students is almost fanatical, in fact, after surveying 1,000 UK students, the National Union of Students found that cafés were the highest used campus facility, with half of all students surveyed claiming it was their most important facility.
With such a large student population, its easy to see how this could have impacted Coventry's place in coffee culture.
Another factor contributing to the growth in popularity of coffee in Coventry is the rich culture available within the city. Coventry has been host to many large historical events during important eras, such as medieval times and WW2.
The city is also home to many famous playwrights and was the first to introduce the revolutionary Theatre in Education model to the world.
Cultured people bring with them great coffee, and the cultured people of Coventry know a great cup of coffee when they taste one. We'd love to help Coventry based coffee businesses to keep growing and expanding both in terms of business and beautiful tasting coffees.
We offer stock, services & supplies to UK coffee businesses.
Our range of premium quality wholesale coffee beans have proven to go down a storm with customers on both a local scale and nationwide. Our beans can be purchased as whole coffee beans, green coffee beans or freshly packaged to your desired grind.
We also offer a very affordable rental service for high-quality machines that otherwise may be out of your price-range. The great advantage of renting one of these machines is that they can very quickly and easily pay for themselves, allowing any profits they make you to be reinvested into the business.
What are The Difficulties Faced Starting / Running a Coffee Business?
It can be difficult finding your feet when first opening any business, unfortunately, there is no exception to this rule for coffee businesses, such as cafés, coffee lounges & even small stalls.
Some of the issues faced when starting or running coffee business can include:
Large overheads for machinery & equipment.
Supplier effectiveness & efficiency issues.
Poor quality coffee stock & supplies.
Lack of barista knowledge / skills / training.
What Iron & Fire Do to Help UK Coffee Businesses
We've seen the UK coffee industry advance dramatically in recent years, but at Iron & Fire, we believe this is just the beginning.
By helping others develop their coffee knowledge and skillset, we hope we can help the industry grow more rapidly and in a smoother and easier way for everyone involved.
Some of the ways in which we help others in the UK coffee business include:
So, Should I Start a Coffee Business in Coventry?
There's not a sure-fire answer as to whether or not you should start any business anywhere.
We do know that Coventry is a brilliantly developing hotspot for coffee, and we know the city's potential is still even huger, it just takes a great barista with some great beans.
If you're passionate about coffee and feel a coffee business is right for you, then remember, we're here to help and support our fellow coffee business enthusiasts. If you're considering running a café, coffee lounge or any other coffee related business, why not have a chat with our coffee experts and see if we can help clear things up for you?
Get in Touch – Iron & Fire Coffee Roastery UK
If you have any questions regarding any of our coffee related products or services, don't hesitate to get in touch, one of our friendly team will be more than happy to discuss your coffee queries as quickly and effectively as possible.
Whether you wish to discuss machinery, beans, training or anything coffee, you can get in touch via phone call, email, social media, or by popping into our Shrewsbury based coffee roastery. All contact methods can be found alongside our contact form here.